June 28, 2021
ResideBPG Named Finalist in 2021 NAA Best Places to Work Awards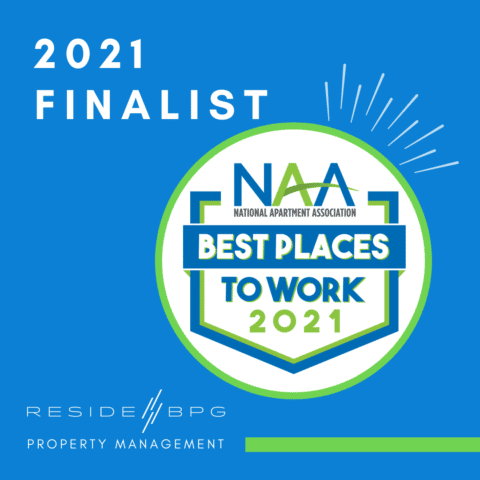 Despite the COVID-19 pandemic, ResideBPG Property Management was named a Finalist in the 2021 National Apartment Association (NAA) Best Places to Work awards, which recognize member organizations that foster a culture of collaboration, innovation and hard work. Further, the awards pay tribute to management companies and industry suppliers that have gone above and beyond to create safe and engaging work environments despite the challenges of the past year.
"Despite the evolving challenges and demands throughout the last year, one thing remains clear – employee performance and engagement are keys to success," said Bob Pinnegar, NAA President and CEO.  "The winners and finalists of the 2021 NAA Best Places to Work awards have fostered a robust workplace culture and gone to lengths to keep their staff safe. Congratulations to all of this year's winners."
ResideBPG strives to exceed the expectations of residents, fellow associates, and the community 365 days a year. We are so proud to see our team's efforts highlighted by the NAA during this unprecedented time. Please join us in congratulating all of our ResideBPG associates for this well-deserved recognition!