February 4, 2021
In Local Hands: A Personal Note From Rob & Chris Buccini on 101 dupont place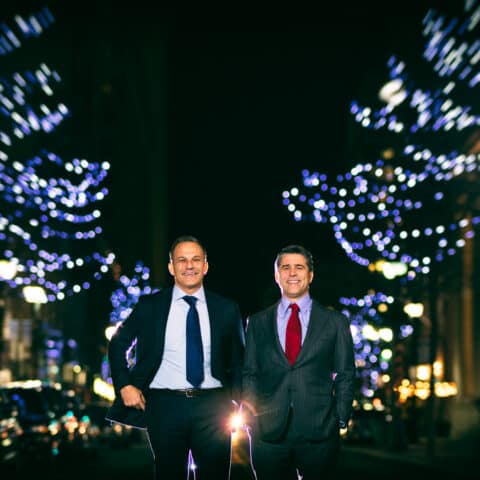 Rob & Chris Buccini, Co-Presidents of The Buccini/Pollin Group, discuss their personal connection to the Dupont Building and why adding 101 dupont place apartments has been so important to them,
"Wilmington is the heart & soul of our business and the Dupont Building, which takes up an entire city block facing the historic Rodney Square, is the metaphorical heart of Downtown Wilmington. It makes sense that we jumped on the opportunity to purchase this iconic building in 2017.
The Dupont Building, dating back to 1908, is an original embodiment of the work, play, & stay concept that we see across major cities today. There is no better way for us to honor the rich mixed-use history of this space than to re-envision it as a modern version of what it has always been – a lifestyle center for the City of Wilmington and the surrounding Mid-Atlantic region.
For the Wilmington community, ourselves included, the Dupont building is much more than property. It's a venerable landmark where visitors and locals alike have celebrated momentous occasions. For years, people have flocked to events at the Hotel's Gold Ballroom, caught a Broadway show at The Playhouse, and dined in the elegant Green Room.
This blend of functions, executed with the utmost taste and style, is what has made the Dupont Building the place to be in Downtown Wilmington, and most importantly, the anchor of historic Market Street. We are excited to enhance this with the addition of the residential component at 101 dupont place, so that people can continue to make lasting memories within the Dupont Building for years to come.
At The Buccini/Pollin Group, our mission is to transform the communities we serve. We are passionate about revitalizing our home here in Wilmington by breathing new life into underutilized buildings. From one family-owned company to another, we are proud that DuPont entrusted us to be stewards of this iconic building, ensuring its next 112 years are as successful as its first.
Now, we welcome your family into 101 dupont place and invite you to make history as the first to call the Dupont Building home."